Simple Zipshell 1.1 for Win95/NT4 (NT 3.5 not sufficient!)
Simple Zipshell 2.1 for OS/2
Simple Zipshell is the smallest program available to pack and unpack ZIP files from the graphical desktop. Freeware. English, German, (Win) Spanish language.
---
Bug in english version of Simple Zipshell 1.0 Win95/NT: To fix the bug, please open the files BATFILES\UN_ZIP.BAT and BATFILES\EMPTY.BAT with an editor and change the expression "echo J" to "echo Y". The "J" is correct for a german Windows installation (Yes in german is Ja).
Simple Zipshell for OS/2 up to 2.0 can delete data when packing very large single files, now fixed.
---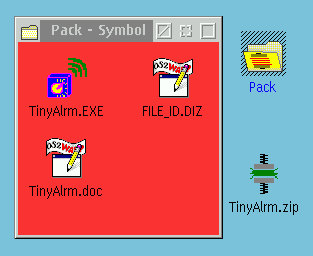 Simple Zipshell simply extends the functionality of the Windows or OS/2 desktop and has no Window-User interface. E.g. to unpack a ZIP file, you will find an "unpack" entry in the ZIP file context menu.
If a large amount of files is packed, you will get several ZIP files, each with a size of 1.44 MB.
Here you can download OS/2 ZIPSHELL.ZIP (33 kB, Info-Zip ZIP and Info-Zip UNZIP for OS/2 required) and Win95/NT zipsh_11.exe (230 kB Info-Zip included).