to main chapter My Favorite Software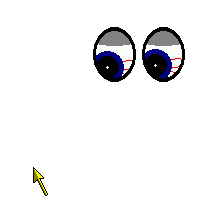 A nice, funny and (in some cases) useful Freeware program is PM Eyes. If you have got problems in locating the mouse pointer on your screen, then this funny program can be even useful: pm Eyes always looks to the mouse pointer. You have got a dialog window with a lot of "very important" settings: Blink interval (time or random), Alert, Relaxed, Drowsy, Bloodshot. It's IBM employee written software, Freeware and an impressive sample of PM programming.
Here you can download PMXEYES2.ZIP (29 k).